Let's Celebrate! Ludlow's Jubilee Street Food Festival Beacon Lighting
Ludlow will be celebrating the Queen's Jubilee with the lighting of a beacon on the top of Ludlow Castle and in a way that Ludlow knows best, through its food and drink. On the first day of the extended bank holiday Thursday 2nd June, in the early evening the town will play host to a Street Food Festival in the market square as well as picnicking in the castle grounds. This is a community event, open to all and has been made possible by the cooperation of Ludlow Town Council, Ludlow Chamber of Commerce and the Powis Estates.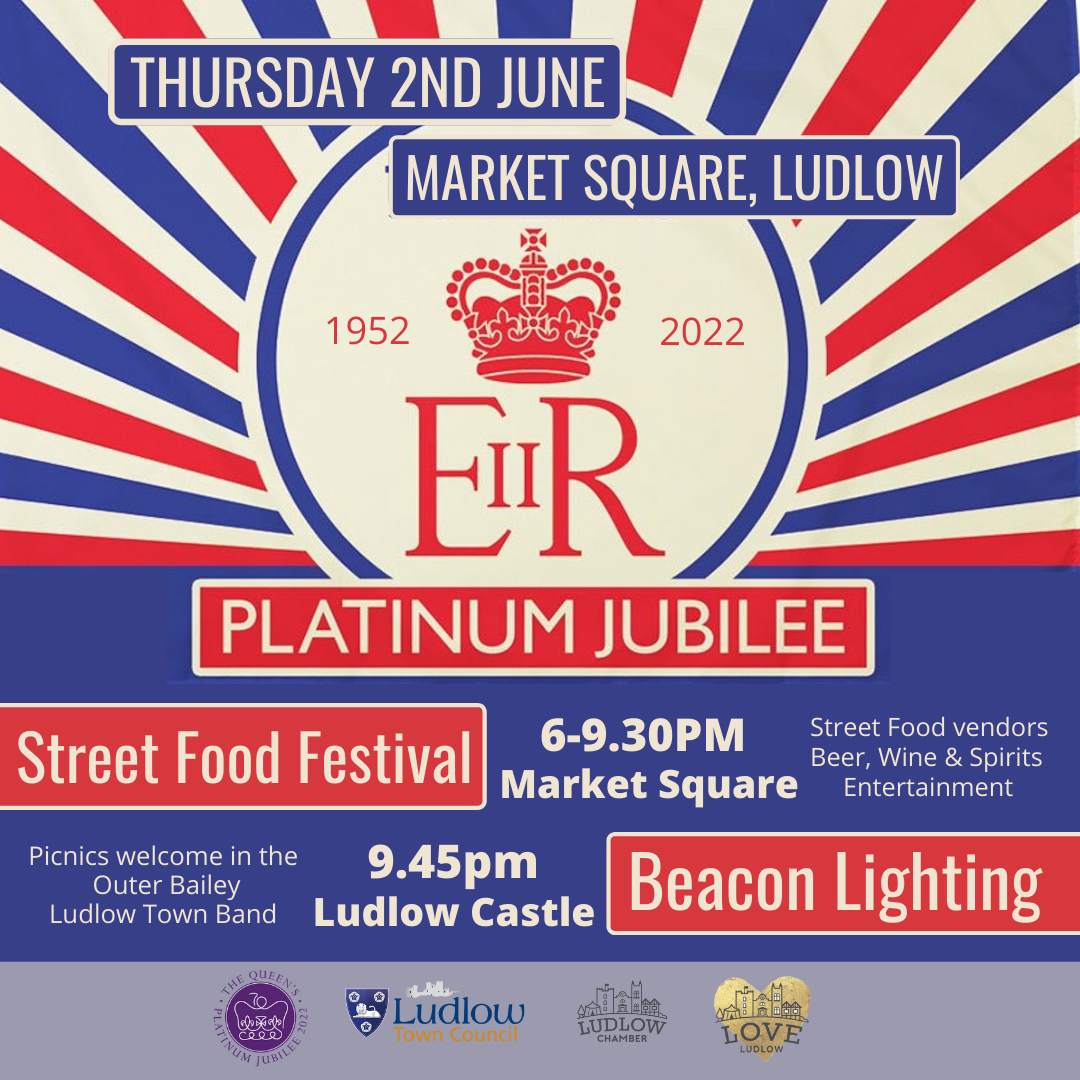 The market stalls will have chairs and will be available for people to sit around, enjoy their food with bars provided by Ludlow Brewery and Ludlow Gin, whilst listening to local bands including 'Join the Dots' and the 'Dust Birds' amongst others and singing from Ludlow's Male Voice Choir.
Ludlow Chamber would like donations of red, white and blue sheets which could be used as tablecloths. These can be dropped into Eclectica's shop on Mill Street.
Ludlow Castle's outer bailey will be open for people to picnic in and listen to the Ludlow Town Band. Councillor Di Lyle adds,
'The lighting of the beacon on the top of the keep will take place at 9.45pm in tandem with others around the country. There is a long tradition in our country of celebrating Royal Jubilees, Weddings and Coronations with the lighting of beacons.'
Local street food vendors including the Pizza Girls, Mr.T and Mukasse Curry will trading alongside local shops and cafes who are encouraged to open their doors throughout the evening and offer additional food and drink.
The Ludlow Chamber of Commerce would like to thank Ludlow Town Council for supporting the event, which all hope will be great success. This will be a not for profit activity aiming to offer something back to Ludlow residents, encourage visitors and commemorate the Queen's Jubilee in style.
Published by Ludlow Guide on