A light and spacious environment turning star products from Ludlow Farmshop into wonderful seasonal dishes for you to enjoy.
A talented kitchen team build wonderful seasonal menus using fresh, local and seasonal ingredients. Each morning they take orders for breakfast until 10.45am; from hearty full breakfasts to a simple bacon sandwich or just a creamy latte, there is something for everyone. Between breakfast and lunch, they run an elevenses menu with a range of lighter dishes and of course, cake!
Lunch offers everything from the classic fish and chips to sandwiches and naughty desserts!
A delicious range of cakes are available all day – offering everything from flapjacks and chocolate brownies to a traditional cream tea. There is a wide selection of hot and cold drinks available all day – not to forget milkshakes and Ludlow Farmshop ice cream in the Summer months.
There is also a children's menu which uses the same ingredients as the main menu, and for those with a furry friend, there is a conservatory and outdoor area that welcome well behaved hounds.
Situated on the outskirts of the beautiful historic town of Ludlow, with the famous Ludlow Racecourse and Golf course located 5 minutes' walk away. Open 7 days a week for breakfast, lunch, coffee and cake – you never have to wait long for a table at this wonderful and spacious café. It is located on the same site as Ludlow Farmshop (just yards away!) so you can stock up on lots of treats which have been handmade on site before you head home.
Opening Times: 8am – 4pm every day
Food Served: Until 3pm every day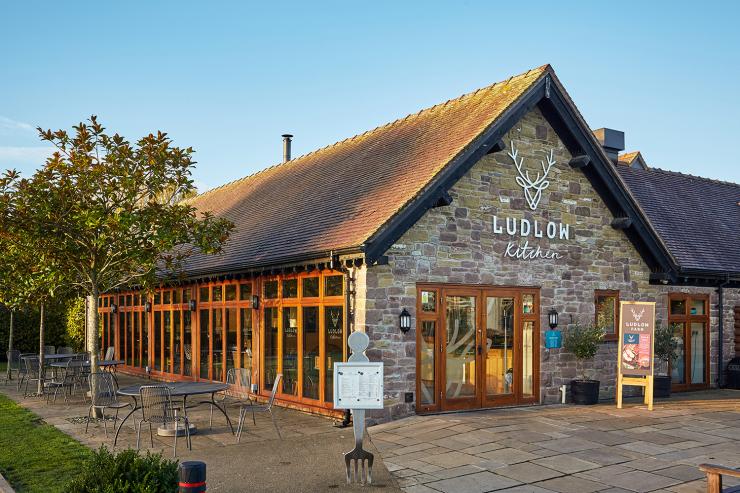 Details
---
Ludlow farmshop
,
Bromfield
,
Ludlow
SY8 2JR