Bill Sewell opened his Bill's Kitchen at the Ludlow Mascall Centre in the summer of 2020 – not a year in which many people were starting new catering businesses. It's the younger sibling of his Bill's Kitchen Hereford which is located in the spacious and beautiful All Saints church Hereford.
When the first lockdown started Bill started making quiches in his flat and delivering around town. Demand was strong and after a series of moves Bill's Kitchen Ludlow has come to a temporary rest in the Ludlow Mascall Centre on Lower Galdeford. Every Friday during lockdown Bill and his team have cooked and bake for an ever-growing band of loyal followers.
In true lockdown style orders are emailed by 5pm on Thursday for collection or delivery on Friday lunchtime. It's a completely different business to their normal café business but they've found it a great way to survive lockdown. But the excitement for Bill and his team is only just beginning in Ludlow...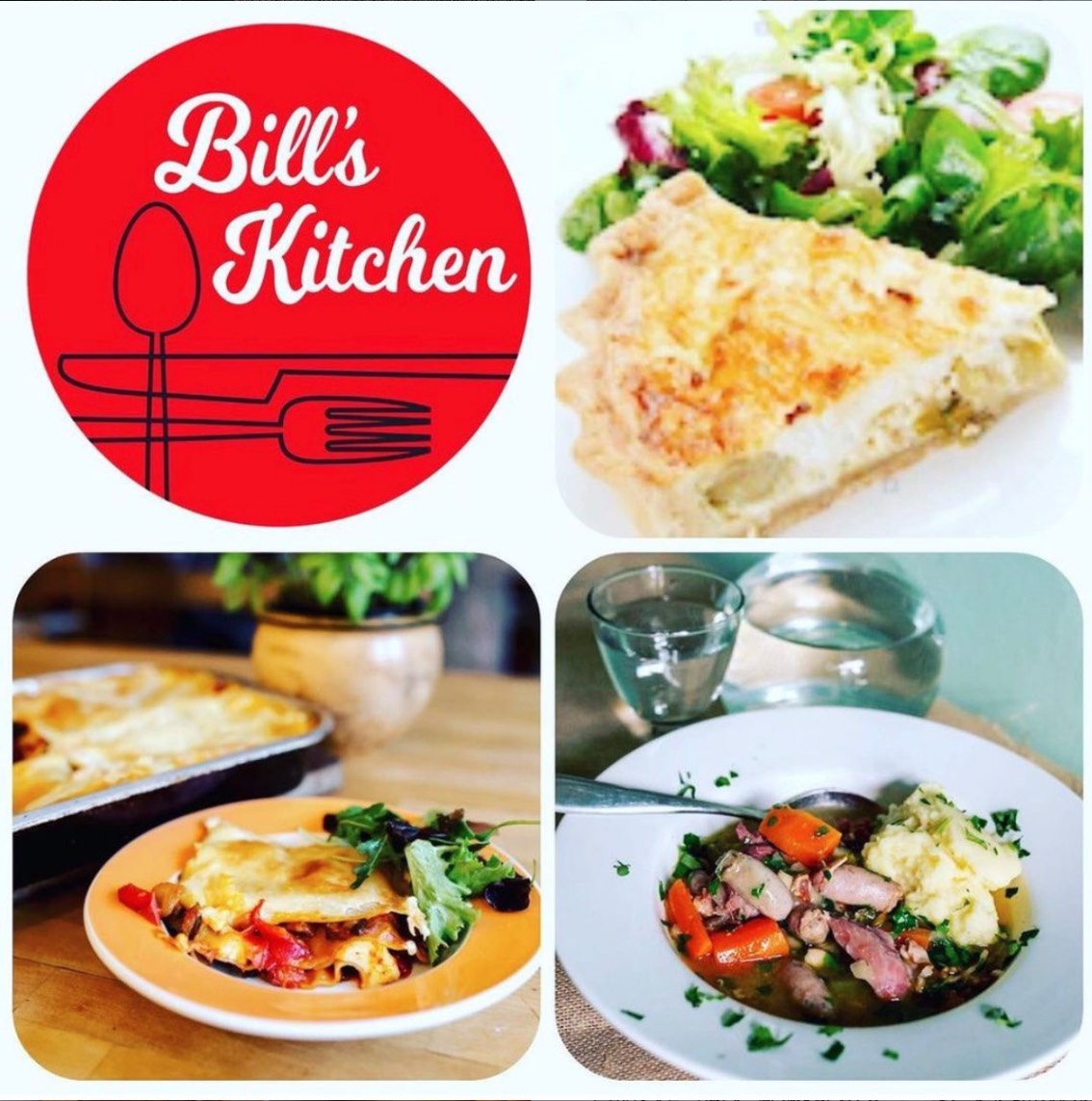 It's no secret that he's due to transfer his café to a beautiful space in the newly refurbished and reordered Assembly Rooms. "I've been talking to the team at the Assembly Rooms since 2008 and I'm so excited that the development is now on the home straight. We're hoping to be open in the early summer – but obviously there's still some uncertainties around timing because of the pandemic, and I've learnt to
take a reasonably relaxed attitude to timescales with big development projects like this. It's going to be worth the wait."
We're hoping to be open in the Assembly Rooms in the early summer; It's going to be worth the wait
As well as running cafes Bill is an established food writer. His most recent book, with beautiful photos by Jay Watson (based in Leominster) is Bill's Kitchen. It features all his favourite recipes from a lifetime of food and cookery all thoroughly tried and tested. "I've been so delighted by the feedback I've had from the book. Quite a few people have told me that they've cooked their way through lockdown on it! It's a book that people seem to really use a lot, not just leave on the coffee table."
The first print run has sold out and the next 2000 copies have recently arrived from Hong
Kong. Bill sees 2021 as a good year for Ludlow generally and its food businesses in particular. "I think there's a real buzz around Ludlow at the moment. It's no longer about Michelin-starred food but about exceptional quality tasty, well-sourced straightforward grub. When I'm not working I can have a beautiful breakfast at Csons, a glass of champagne followed by rabbit with roast peppers at the Angel, porchetta from Ed at Harp Lane, great cheese from the Mousetrap, all kinds of deliciousness from Ian at Broad Bean, endless mouthwatering local meat from our fantastic butchers – I could go
on and on! I'm hearing good things about the Castle tea rooms, we've got the Feathers back up and running and there's a boutique hotel planned for the corner opposite the Assembly Rooms."
And with Bill hoping to be open at the Assembly Rooms things are looking tasty for Ludlow.

For more information about Bill's Kitchen Ludlow takeaway menu please email: manager@billskitchenludlow.uk or follow them on social media.
To order a copy of his book email: bill@billskitchen.uk
Published by Ludlow Guide on