Based in a sensitively restored railway shed, the Ludlow Brewery onsite Taproom and Visitor Centre are open to visitors seven days a week.

They use only the finest ingredients in their brews: Malt made from Maris Otter barley and local hops from Brook House Farm, near Bromyard. The team simply add yeast, water and a bit of Ludlow Brewery magic to produce our award-winning ales!

Here are their core range of craft beers...
LUDLOW BEST: 3.7%
A golden amber complexion, well balanced session beer. The aroma of this ale is banana, pineapple and toffee. It has a resinous and dry finish.
BLONDE: 4%
The blonde gives a lemony, citrus aroma and is balanced, with crisp citrus notes in taste.
LUDLOW GOLD: 4.2%
This has a golden ale complexion with a papaya, pineapple and lemon aroma. Ludlow Gold has a soft, full bodied creamy taste.
BLACK KNIGHT: 4.5%
This stout has a ruby black complexion, with a smoky, liquorice aroma and a sweet, roasted nutty flavour.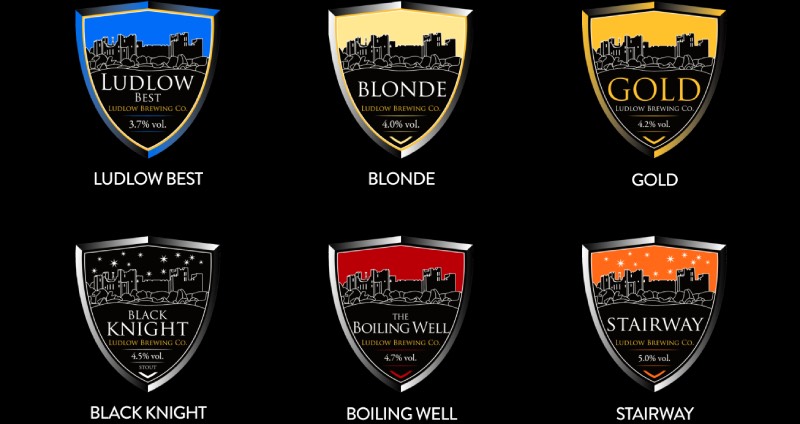 BOILING WELL: 4.7%
It has an auburn chestnut complexion and a grassy aroma of autumn fruit with a full bodied sweet then dry taste.
STAIRWAY: 5%
Stairway has a honey gold complexion with a grassy, citrus floral aroma. It has a sharp, sweet, full bodied taste.
Have we made you thirsty?!
Then why not book a tour at the brewery where you can taste and buy Ludlow Brewing Co. beers. Built in 1857, gleaming brewing equipment stretches right up into the old ceilings and they've got a comfortable and informal bar area with the full range of beers on offer.
They also serve tasty bar food including large scotch eggs, locally produced pork pies, sausage rolls and more.
Warm in the winter and cool in the summer, Ludlow Brewery is a popular hot spot for locals, commuters, clubs and societies, cyclists, music fans, and more. They are also dog friendly, so take your firry friends with you.
You'll find them a 5 min walk from Ludlow town centre, right by the train station and they also have ample parking spaces.
You can read more about the brewery here.
Published by Ludlow Guide on