Get ready for another packed weekend of top-notch chefs and food experts appearing at Ludlow Food Festival.
Top chefs heading to Ludlow this weekend include:
Cyrus Todiwala OBE – Chef/Proprietor Café Spice Namaste & Celebrity Chef
Chris Simpson – Head chef, Michelin-starred Pensons,
Claire Thomson – Chef/food writer
Irina Georgescu – Food writer/author,
Grace Regan – Food writer, cook/owner Spicebox
and heaps more…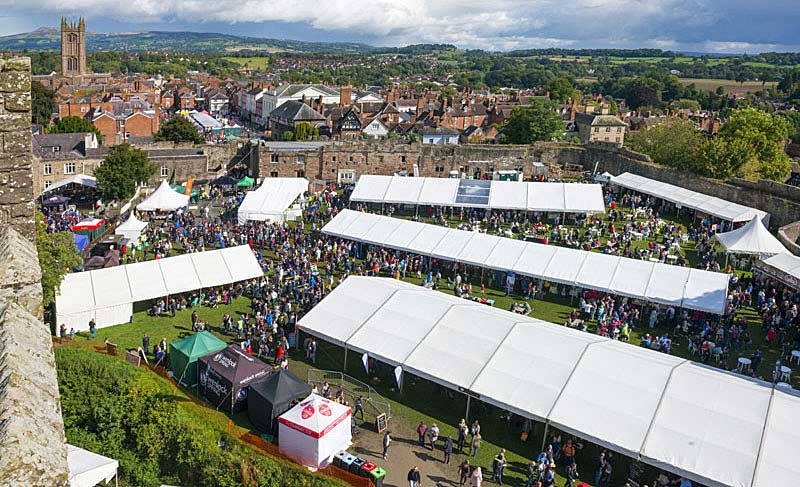 In partnership with Wardington' s Original Ludlow Gin, Ludlow Food Festival hosts three jam-packed days of food in the grounds of Ludlow Castle, which serves as a gorgeous backdrop to the proceedings. In association with Wots Cooking, the Festival line-up brings you some of the industry's foremost experts.
Ludlow Food Festival also. works closely with Slow Food throughout the year and is excited to announce a new stage dedicated to the Slow Food movement – a chance to spread the word about Slow Food's ethos of Good, Clean, Fair food for all.

Known for its friendly atmosphere, our food experts dish up all that's interesting and innovative in an intimate setting. Expect to find chef demonstrations, interactive talks, tastings and workshops. In addition, of course, the. Festival features more than 150 quality local and regional exhibitors and producers; and there will be a wide variety of produce available: from artisan cheeses and charcuterie, through to unusual wines, local ciders, craft ales, and so much more.

Fire Kitchen stage
Ludlow's ever-popular Fire Kitchen stage will be back this year. Alongside it there will also be more evening entertainment, with music and live-fire cooking for visitors to enjoy.

Saturday night will see the return of the sell-out Live Fire Feast with a chance to enjoy delicious food cooked over the coals, from some of London's finest fire chefs.

Hannah James, Events Manager for Ludlow Food Festival, said:
We are so excited to announce our line-up and share the exciting developments we've been working on behind the scenes. Ludlow Food Festival was the first. of its kind and remains a not-for-profit event with its roots firmly placed in the local community. Our visitors will enjoy the variety of producers we've got lined up, as well as chefs, talks, evening entertainment, exclusive dinners and lots more. All set against the stunning backdrop of Ludlow Castle, it really is a spectacular event!
Ludlow Food Festival is a not-for-profit organisation and is the town's biggest event of the year, regularly attracting around 15,000 people to the grounds of Ludlow Castle across three days. It was the UK's first food festival - established back in 1995 and continues to push the agenda on food issues, attract top names from the culinary world and celebrate local producers from the Marches area.

Ludlow Food Festival has a year-round presence in the town, with the Spring Festival in May, the Magnalonga food walk in August and the annual Food Festival in September.

Opening hours:
Friday 13th May (evening ONLY). 5-9pm
Saturday 14th May 10am-9pm
Sunday 15th May 10am-5pm
Buy your tickets here
Published by Ludlow Guide on