Eat and drink your way around Ludlow
Ludlow town centre is around 12 hectares (not even a square mile) and it is the main market town in South Shropshire. It is physically close in area size to Bridgnorth but larger than Market Drayton or Whitchurch. Luckily, for visitors and residents there is an abundance of restaurants, cafés, takeaways, pubs and hotels where you can tuck into some nosh or grab a drink within this compact space.
Continuing our #loveludlow campaign, we're gifting readers with a handy guide, which highlights not only the main landmarks, but also some of the places to have a feast, while meandering around town.

Ludlow is not short of eateries and there's great diversity when it comes to dining. If the weather is fine, pick up a few light bites or find ingredients for a picnic on the Millennium Green. Head to Dugan's Kitchen and Bakery for a selection of sweet and savoury tarts to takeaway. Broad Bean Delicatessen, has excellent organic fare and Harp Lane Deli has heavenly portuguese tarts alongside some high end treats.
After a spot of shopping and visiting cultural attractions, like the historic Buttercross and its quaint Ludlow Museum, take an extended break with an afternoon tea at The Castle Café which also offers a great spread for lunch. Plus, you can't beat the atmosphere; quiet and openness of the bailey as its terrace is within the castle walls. Bill's Kitchen (soon to be relocated in the revamped Ludlow Assembly Rooms) is another great location for a spot of lunch. Bill also serves a gorgeous breakfast menu – and a good selection of guilty desert treats!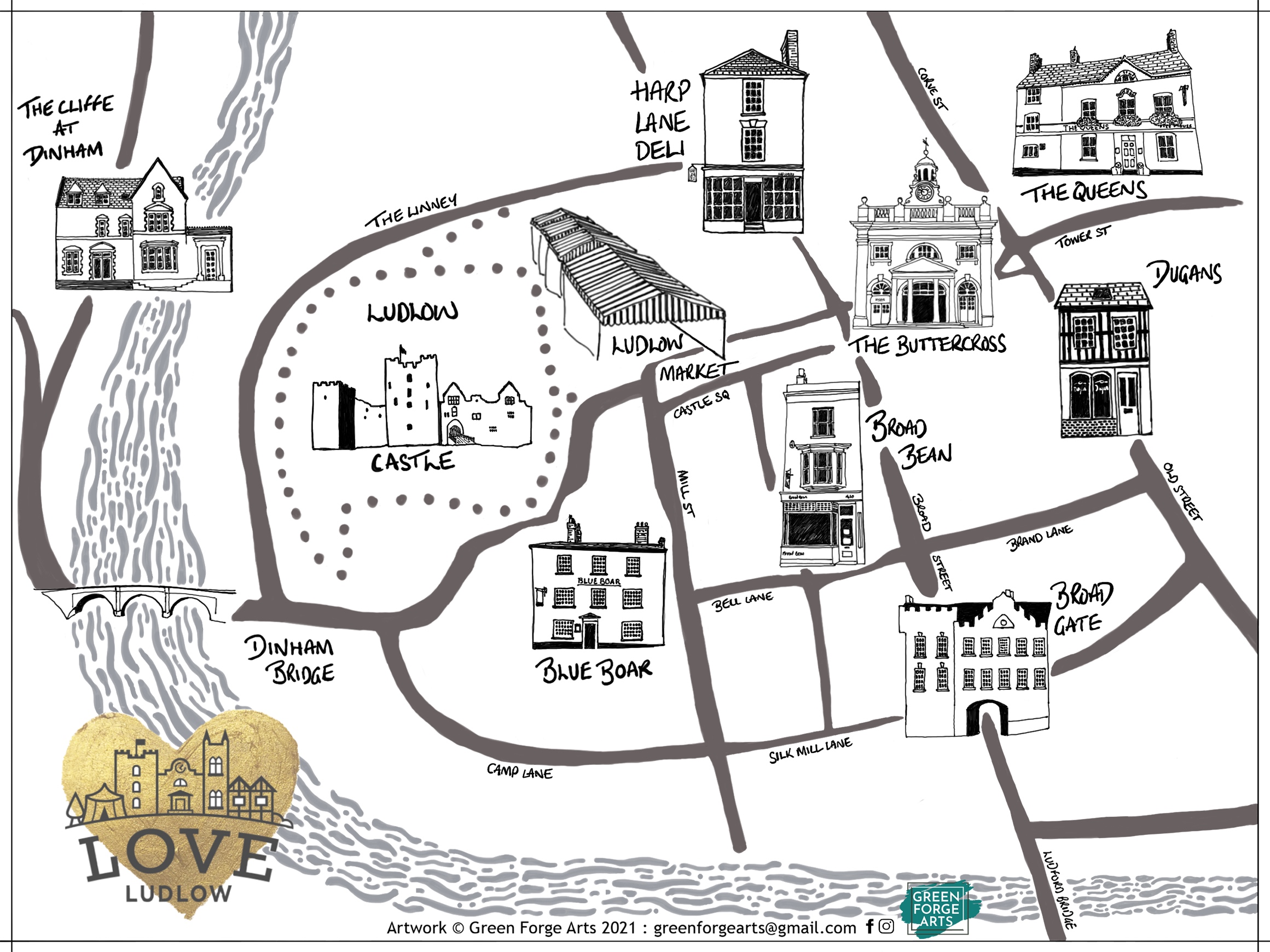 Map drawn by Green Forge Arts

For your dining pleasure..
After 17th May, we can return to marking special occasions with a meal. Get ahead of the game and book a tea, lunch, or dinner at a hotel restaurant. The Clive Arms on the A49 is a matter of a decent 15-20-minute walk from the town centre, so you can earn your dinner! Or take an even shorter drive - we won't judge you! Either way you are in for a superb dining experience.

The Cliffe at Dinham is just on the other side of the river, sit outside on the patio and enjoy the views looking up to the castle ruins. Jazz night is also happily returning, so get booking!
Bistro 7 is another popular local option that offers British fare and patrons recommend for the high quality of food and relaxed atmosphere. Looking for Asian flavours? The Chang Thai Bar & Restaurant menu stimulates the taste buds. There is a separate bar with outdoor seating in a delightful urban garden, and best of all is its lively vibe.
There are several great pubs with a warm ambience. They all have outdoor seating and provide just the right sense of cosiness to help you relax as you dine or have a drink. A few of the pubs also offer rooms or B&B accommodation.

The Blue Boar in Mill Street was built in 1650 and is carrying on the tradition of being 'the local'. The Queens, just a few minutes from the town centre, is equally as convivial. The Charlton Arms at Ludford Bridge has a stellar view over the river Teme and on the other side of town close to the rail station is the popular Ludlow Brewery.
We suggest breaking up your feasting trail by dropping into a landmark or two identified on our map. Do check out their opening times. You don't need to pre-book to visit the Castle. In addition, when you strike out for the landmarks, stop and shop. Browse the local market held in the Square and open most days for unique gifts and quality fresh food.
There you have it, the official guide to eat and drink; all in Ludlow's 12 hectares.
Article written by Claire Hunte, Lets Go Social.
Published by Ludlow Guide on