Why Ludlow is a great place to work and live
When we talk about the heart of Ludlow, it doesn't just apply to the people but also the businesses that help to drive the success of our market town. Up and down the main arteries and on side streets, are independent shops in retail as well as services serving local and visitor populations.
It's been a tough year for trade but even with the struggle, local businesses have done their best to remain flexible and commercially viable. Our #loveludlow campaign focuses on the pride they feel about being a part of our community. With responses as eclectic as our high street shop owners, service providers, festival organisers and leaders of our town, share why they think Ludlow is the best place to be.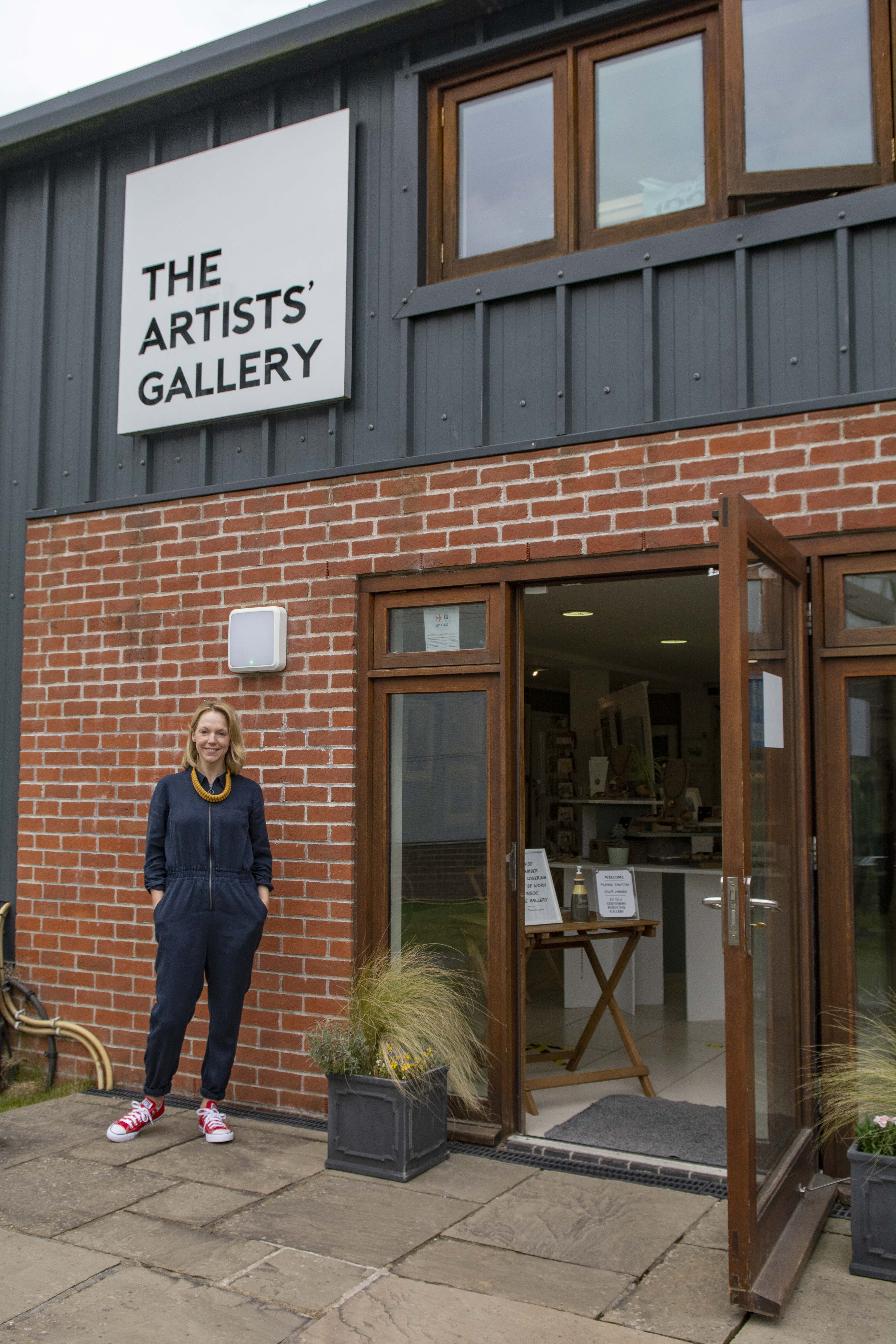 The Artists Gallery, Bromfield.
A cooperative art gallery run by eight local artists and craftspeople; Pricilla Kennedy, Dainelle Flowers, Megan Evans, Jan Jay, Pip Jones, Sarah Billingham, Kim Davis & Shelley Perkins.

How long has the gallery been open?
We opened in October 2019
What brought you to Ludlow?
The richness and diversity of the existing businesses, the historical nature and beauty of the town and the type of visitors those qualities bring.

Give our readers an insight into why Ludlow is the place to be?
Ludlow has an incredible richness of history and culture that has brought about a town which is both picturesque in appearance and which also supports a community who cherishes the handmade and artisanal.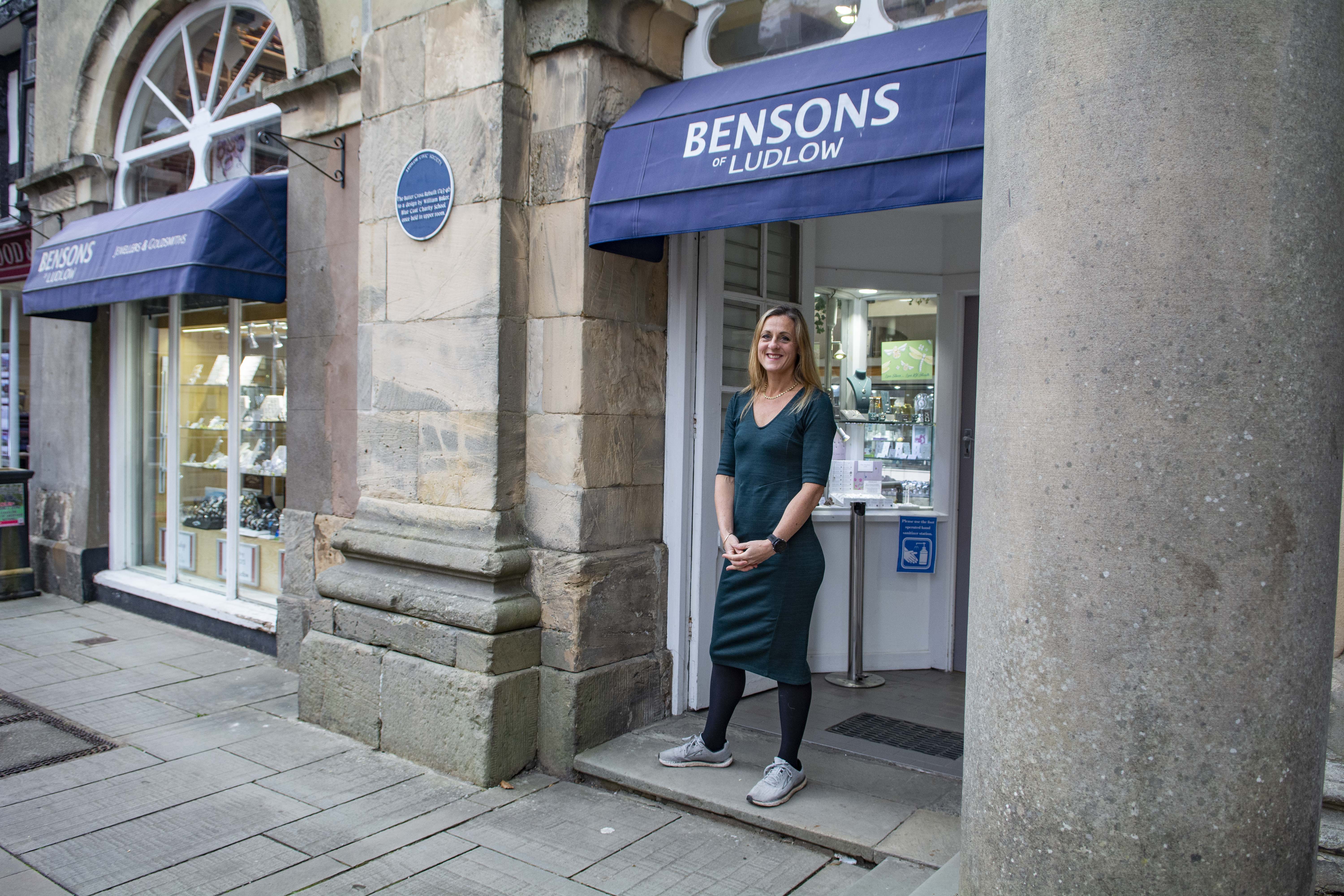 Bensons of Ludlow, Buttercross.
Bensons is run by Amy Fulford, she is the second-generation owner of Bensons, a beautiful jewellery shop located in the heart of Ludlow within the historic stone Buttercross building. They sell a range of gold, silver, diamond and gemset jewellery as well as watches and giftware. Bensons also have a workshop on site where they carry out jewellery repairs, restoration and commissions along with changing of watch batteries and straps, engraving and valuation work.

How long has Bensons been in Ludlow?
The business was established by my father, David Benson, in 1978.

What has kept you in Ludlow?
I grew up in Ludlow and worked in the shop as the 'Saturday girl' throughout my teenage years. The lure of the big city took me away from the area for a few years, but I returned with my own family 13 years ago. What better place to safely bring up a young family? And the beauty of the surrounding area is the perfect place to practice my passion for trail running!

Give our readers some reasons to visit Ludlow?
So many wonderful places to grab a cup of decent coffee and a cake with friends. So many beautiful places to explore on foot – walking or running – in the local area.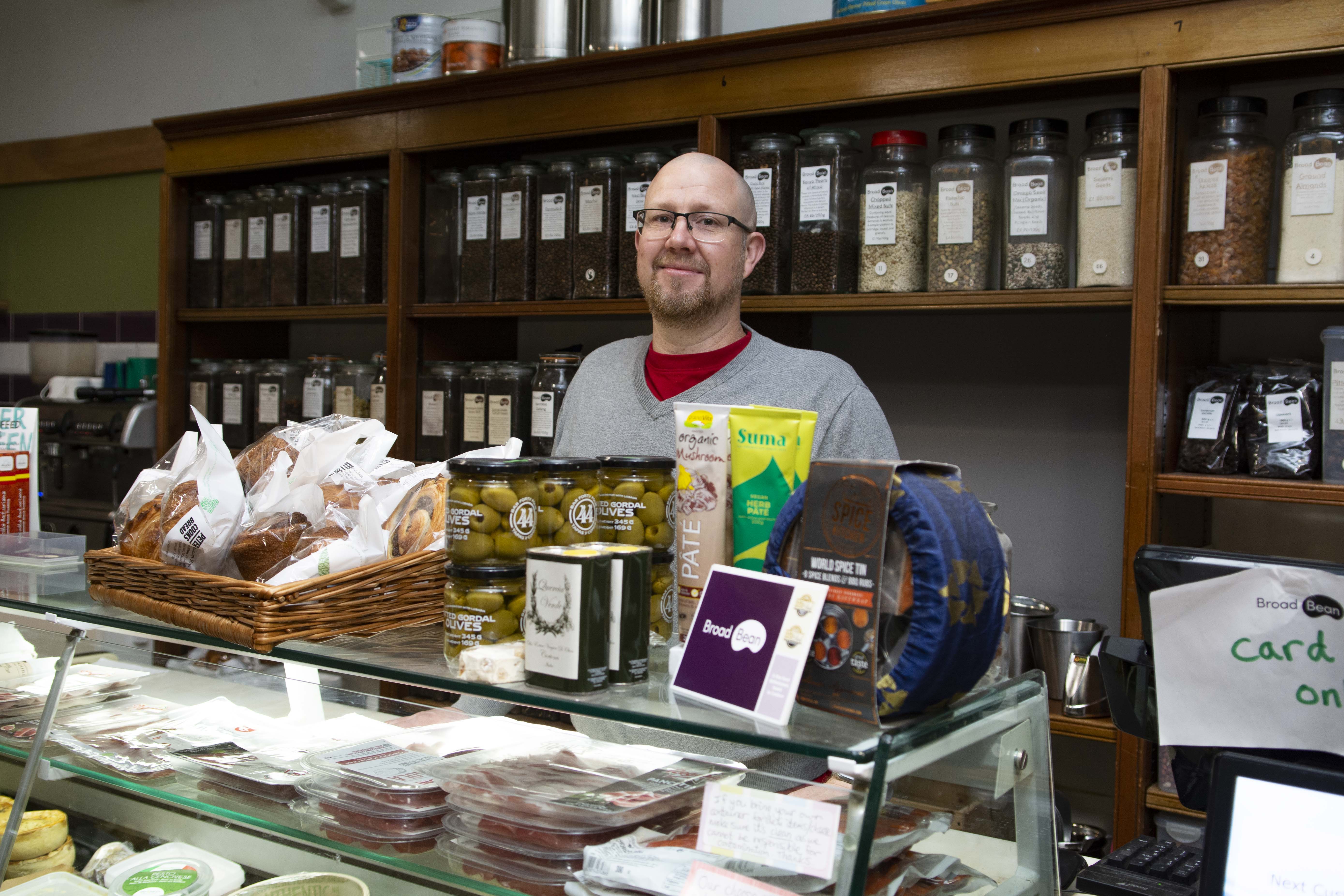 Broad Bean, Broad Street.
Run by Ian & Alice Evans, Broad Bean is a traditional delicatessen selling store cupboard staples alongside more specialist treats; step through the doors and you'll find fresh soups, salads, cheeses, cured meats, olives & savoury pastries. Plus daily staples, leaf teas, coffee beans, nuts, oats & more.

How long have you been in Ludlow?
The business has been on Ludlow's Broad Street since 1977, and we are its current owners having bought the business in May 2016. We celebrate 5 years next month!

What brought you to Ludlow?
We are both incomers/blow-ins and were looking for a business in an environment that would support and allow our family - we have two daughters - to thrive.

Give our readers reasons why Ludlow is the place to be?
The people who live here are passionate and proud of their town and that's tangible in the atmosphere.
Within walking distance (or, a very short drive) there is variety on your doorstep -- from a wander through town, to the tranquillity of the river and the adrenaline of hiking or biking up a hill.

Whilst there are picture perfect views at every turn, we are not a 'toy town', it's a proper working town and the juxtaposition seems to make it work.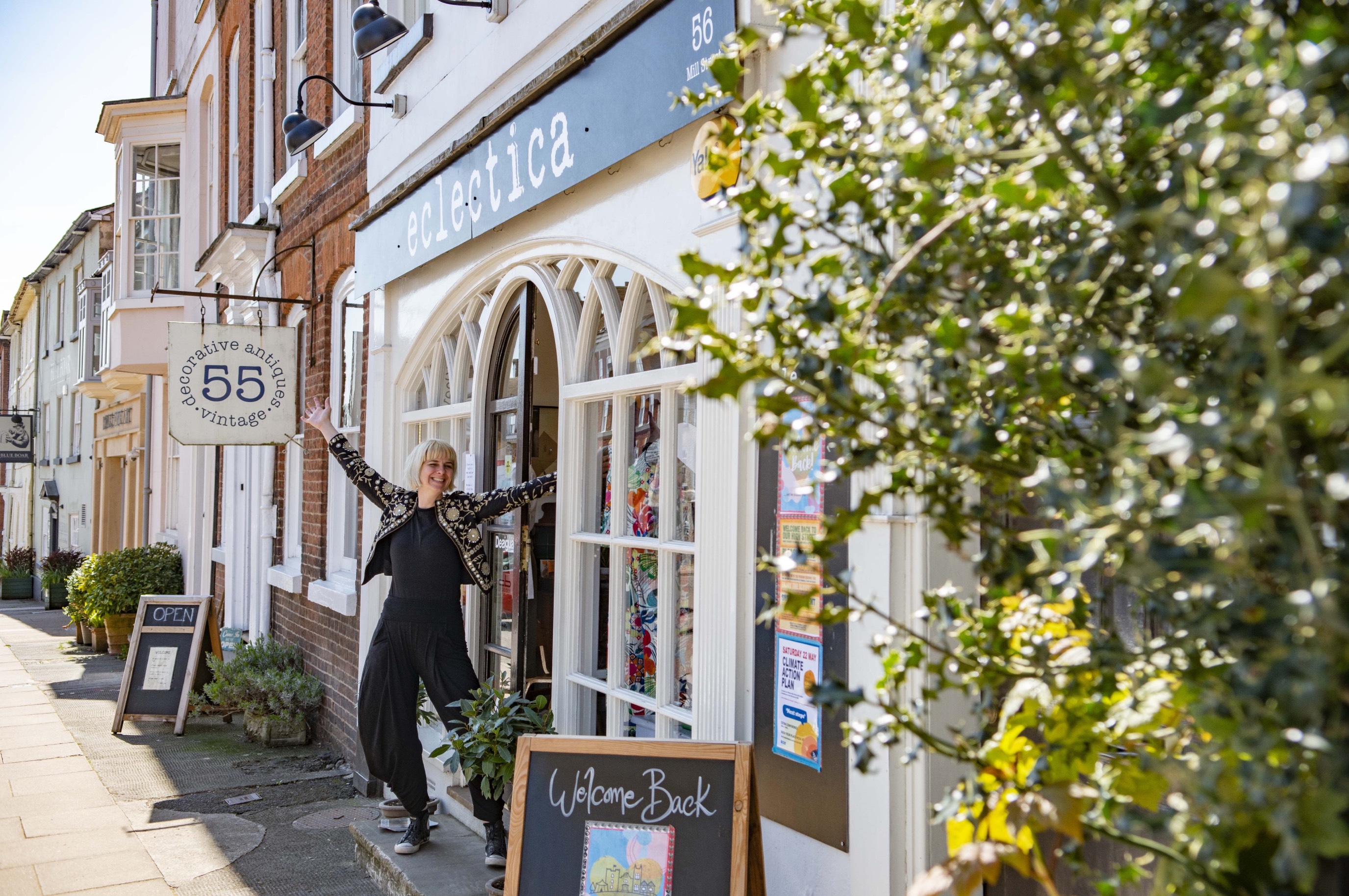 eclectica of Ludlow, Mill Street.
eclectica is owned by friends Jodie & Vicki, and step through their doors, you'll find yourself in a world of bright, colourful clothing, jewellery and accessories on the happy side of bonkers!

How long have you been in Ludlow?
The shop celebrates 5 years in November.

What made you pick Ludlow?
One of us is Ludlothian (well, technically, 'off the hill' and locals will know the difference!) and t'other is a 'blow-in'. We call Ludlow home because we love Shropshire time! It gives us a great work/life balance – something that is bandied about an awful lot and is often quite meaningless or seemingly out of reach, but here in the Shropshire hills we manage it!

Give our readers two great reasons why Ludlow is a great place to stop?
From a shopping perspective - originality; you'll go home with something which people will covet and can't get anywhere else.
Historically, Ludlow has always been a staging town, a stop from one place to another. So, it's used to the ebb and flow of people and I think that has made a warm welcome part of its DNA.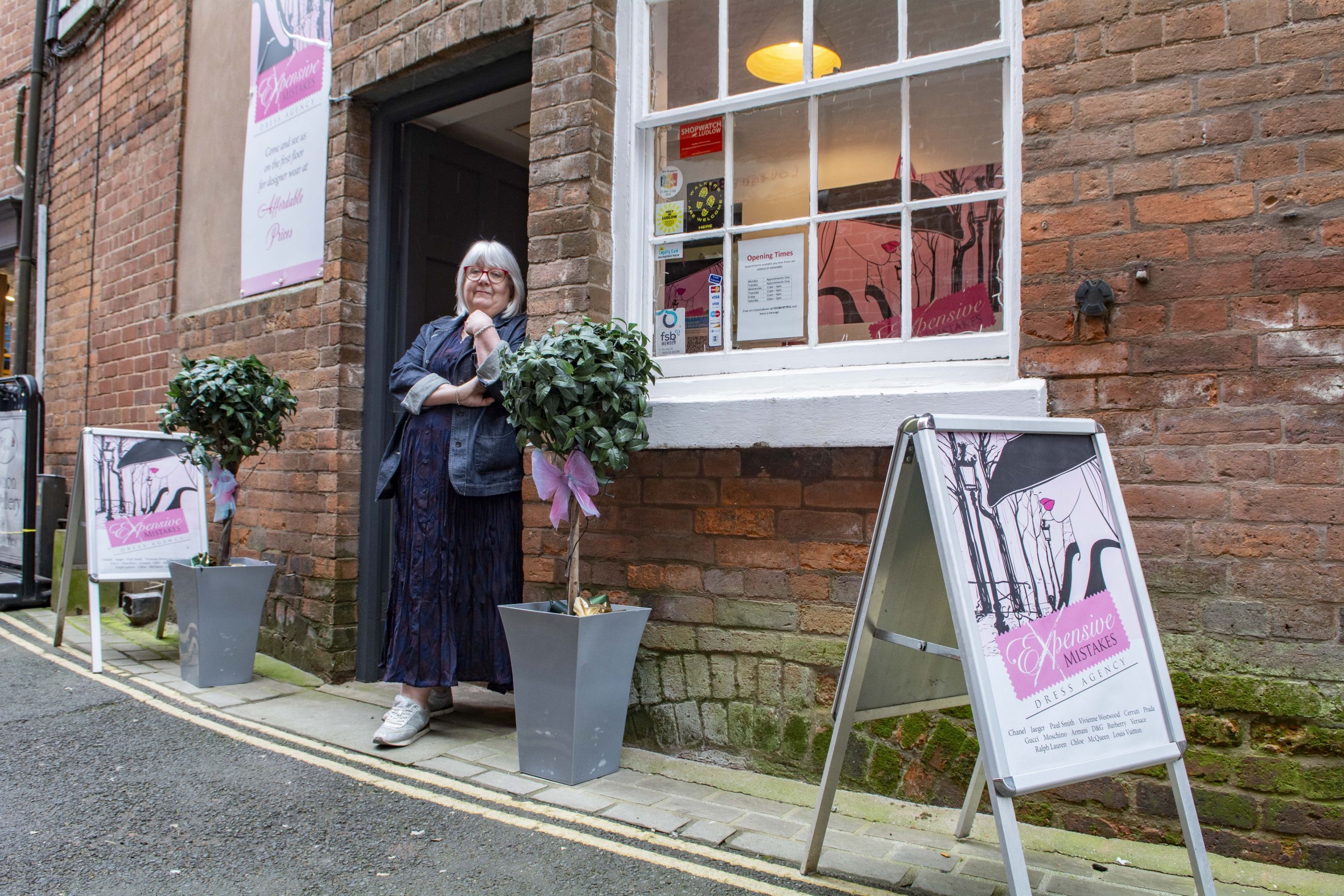 Expensive Mistakes Dress Agency, Market Street
Run by Carmel Wilson; Expensive Mistakes, is a dress agency that specialises in designer and high street preloved clothing for women and men. Posh recycling at its very best.
How long have you been here?
The shop has been part of Ludlow for at least 25 years and has dressed generations of Ludlow party goers, business leaders, Palace garden parties and the odd court appearance, to name but a few.
What brought you to Ludlow?
I moved to Ludlow 16 years ago. When I had my exit meeting, my VP asked me why I was moving to Lucerne. I said no, Ludlow, to which his response was, "I thought you said that, but I couldn't find it on the map." Neither could I as it turned out, but it was one of the reasons I moved here. No one could find it! The second was after a couple of visits, it was obvious that Ludlow was like a time warp. Life is less stressful, and people take time to engage and communicate, which makes for a great community.
Give our readers your reasons why Ludlow is a great place to visit?
To visitors I would say, "Leave your stress at home and come and embrace a pace of life that is more enjoyable. We've got trees, views, castles, great food, even better beer and wine, plus festivals - all on the doorstep. Enjoy it wrapped up in a nice Maxmara coat and a fab pair of shoes!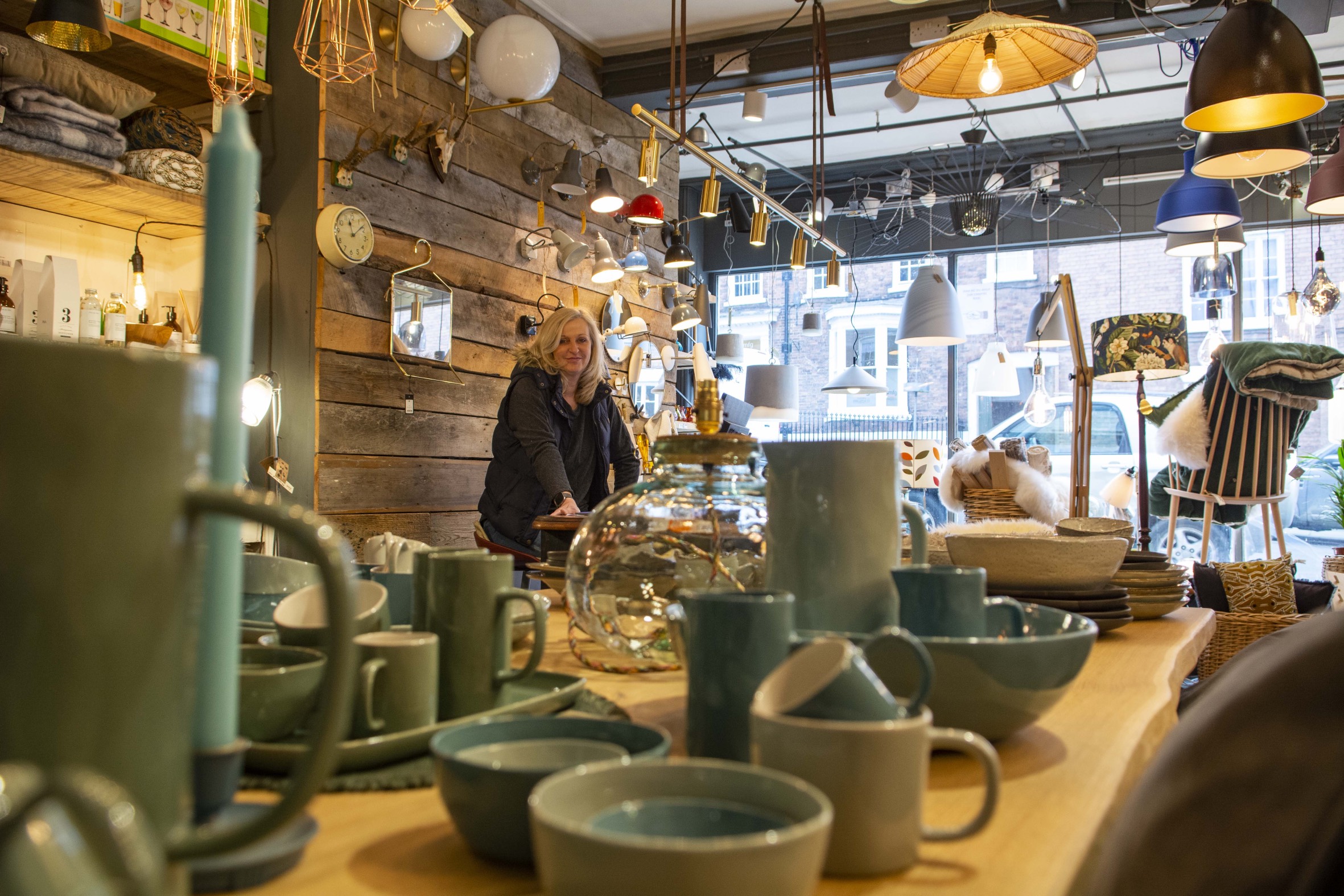 Holloways Period House Shop, Corve Street.
Julie Holloway runs Holloway's Period House Shop with husband Simon. Holloway's is a glorious showrooms of lighting, homewares, gifts, furniture & antiques. Paint & restoration products. .

How long has Holloways called Ludlow home?
It has been a family run business for almost 40 years and started off as salvage and reclamation. We now sell paint, ironmongery, gifts, homewares, cushions, candles and clothing amongst a plethora of other things, new and old. We also have a huge lighting showroom upstairs. You will find us near the bottom end of Corve Street with a double frontage and two entrances, but we are joined in the middle on the inside!
Have you always called Ludlow home?
We absolutely 'Love Ludlow' and wouldn't want to live anywhere else having moved here as teenagers.
With your insider knowledge give us two great reasons why Ludlow is the place to be?
Ludlow is so diverse with all of its eateries, independent shops, history, art and culture. We have the beautiful riverside walks and surrounding hills which are easily accessible and have stunning views. Ludlow hosts a variety of festivals and fringe events to suit any palette, including our world-famous Food & Drink Festivals. Ludlow is the perfect 'Staycation' destination!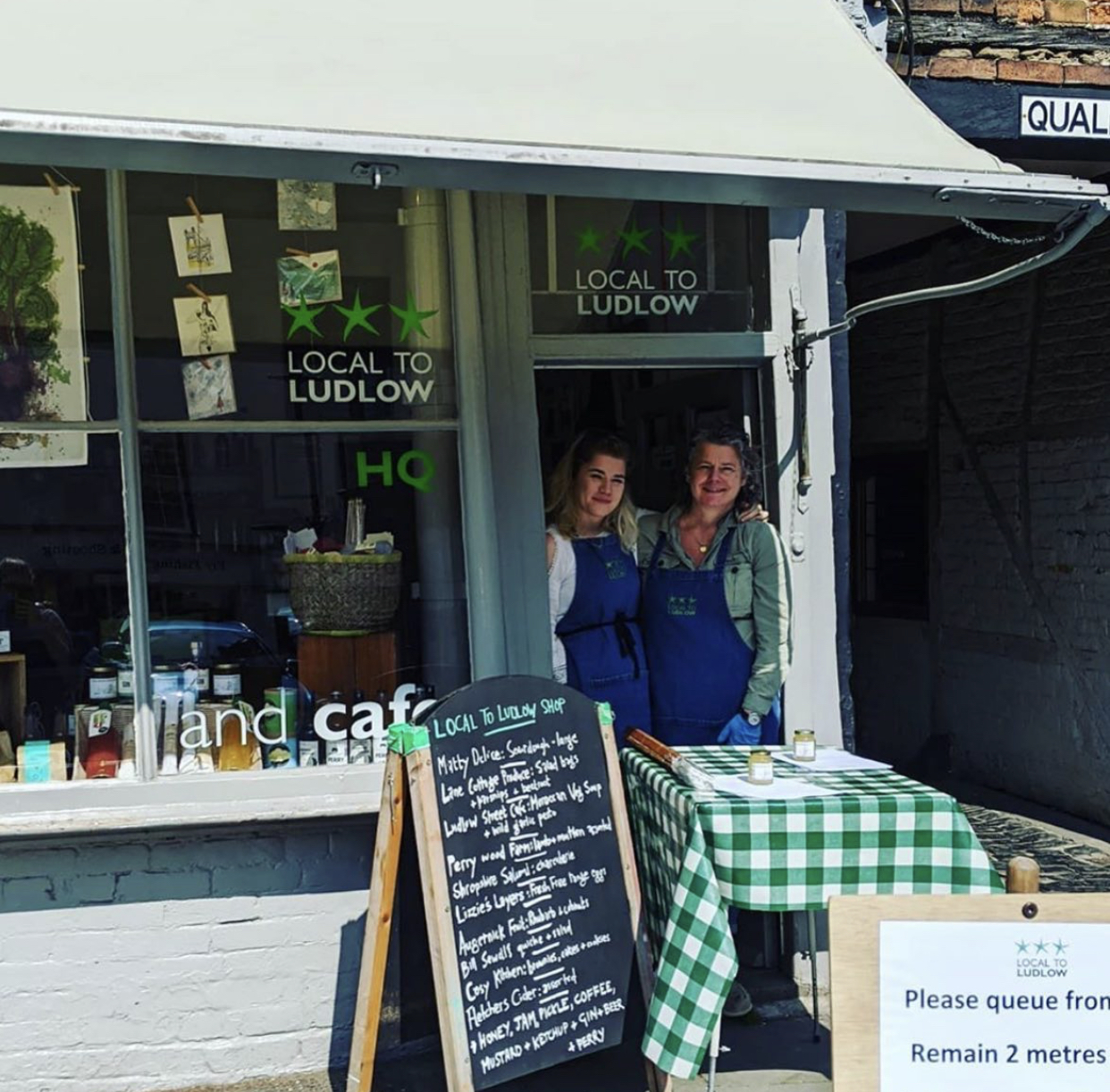 Local to Ludlow, Market Square.
Tish Dockerty is the Manager of Local to Ludlow CIC, which is community interest company that includes the Ludlow Local Produce Market, Local to Ludlow HQ Café & Take Away.

How long have you called Ludlow home?
I moved to Ludlow in 2004

What is it about Ludlow that made you settle here?
I wanted to bring my family up in a town not a city - we came from Manchester, which I loved, it was hard to leave - but Ludlow has been great, there's no looking back.
Tell our reader what is it about Ludlow that makes it so special?
Because people have the time of day for you, always polite and love a good chat. It's stunningly attractive, both as a town and as a rural area.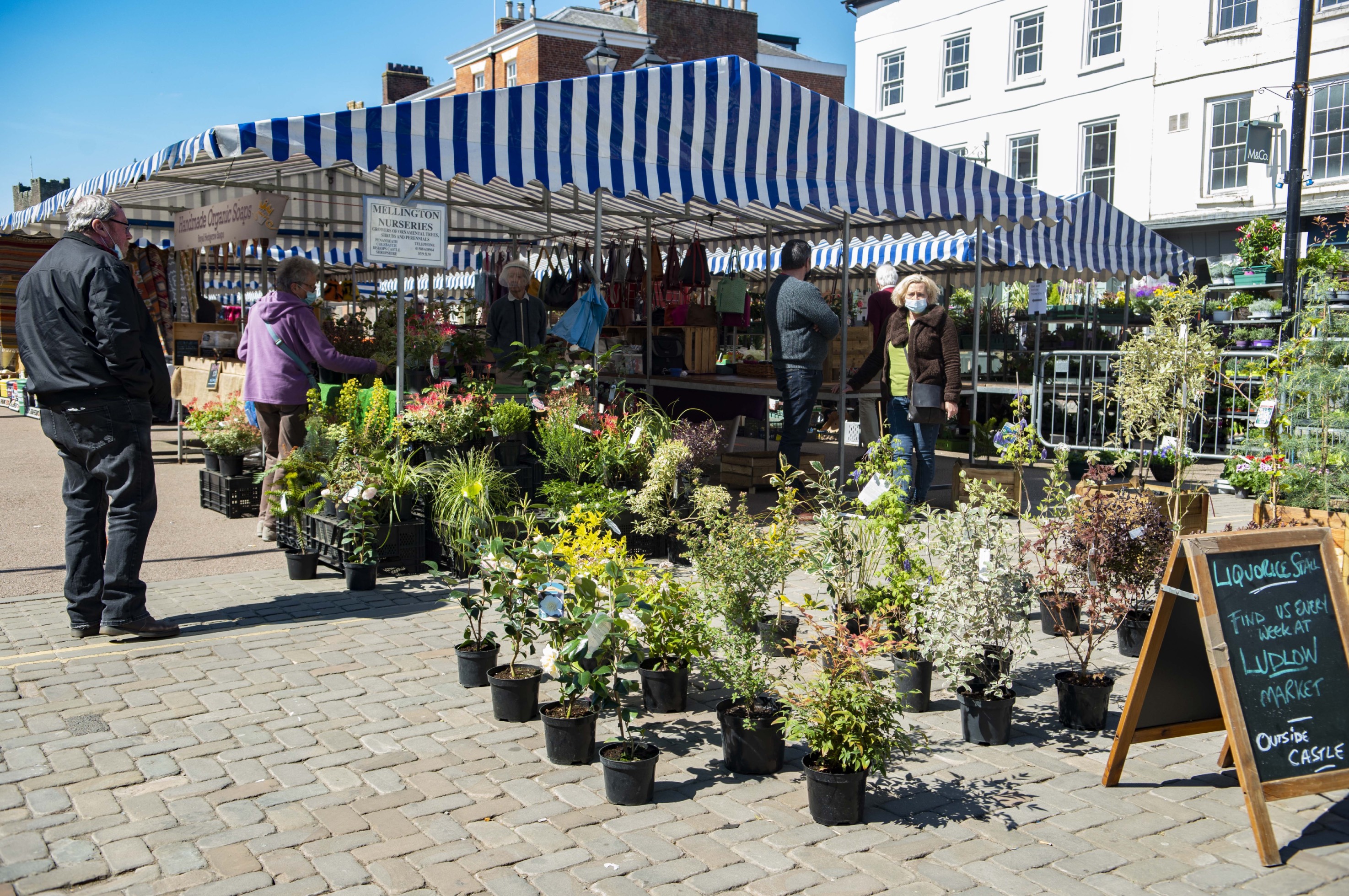 Ludlow Market, Market Square
Ludlow Market trades Mondays, Wednesdays, Fridays, with specialist markets most Thursdays and Sundays.

How long has the market been on in Ludlow?
In the region of 900 years – it's had a few face lifts in that time!

What bought the market to Ludlow?
The creation of the town as it extended outside the castle walls.

Give our readers two great reasons why Ludlow is the place to be?
Ludlow is the place to be … because there is still a welcoming market outside its castle, and the street food is great!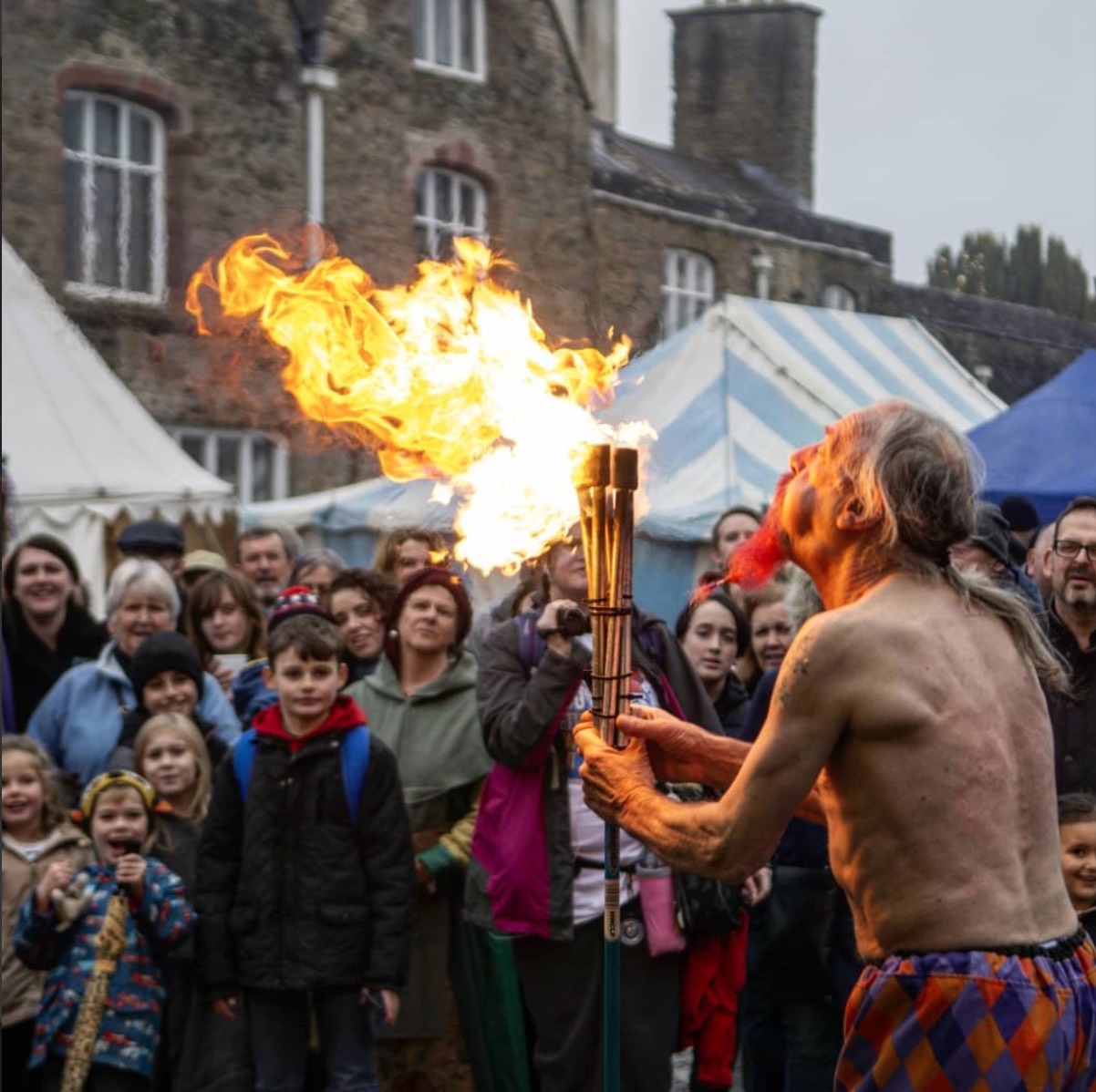 Ludlow Medieval Fayre, Ludlow Castle
Dakin Events, a local family company run the annual Ludlow Medieval Christmas Fayre in the stunning setting of Ludlow Castle, this historically kicks off the festive season in Ludlow in true medieval style.
How long has the Medieval Fayre been going?
We have been running events in the Castle for 30 years, and welcoming visitors to Ludlow Medieval Christmas Fayre for 22 of those!
Why hold the event in Ludlow castle?
Ludlow Castle is a beautiful, atmospheric venue at the heart of a wonderful town, and we love welcoming people from across the country (and beyond!) to celebrate it with us.
Tell Ludlow Guide readers why Ludlow is the place to be?
Ludlow gives you all the liveliness of a modern town, nestled seamlessly amongst reminders of a fascinating history you can feel, wherever you turn.
We love catching different views of the Castle from around town and beyond; our favourite is definitely the view when swimming in the river by the weir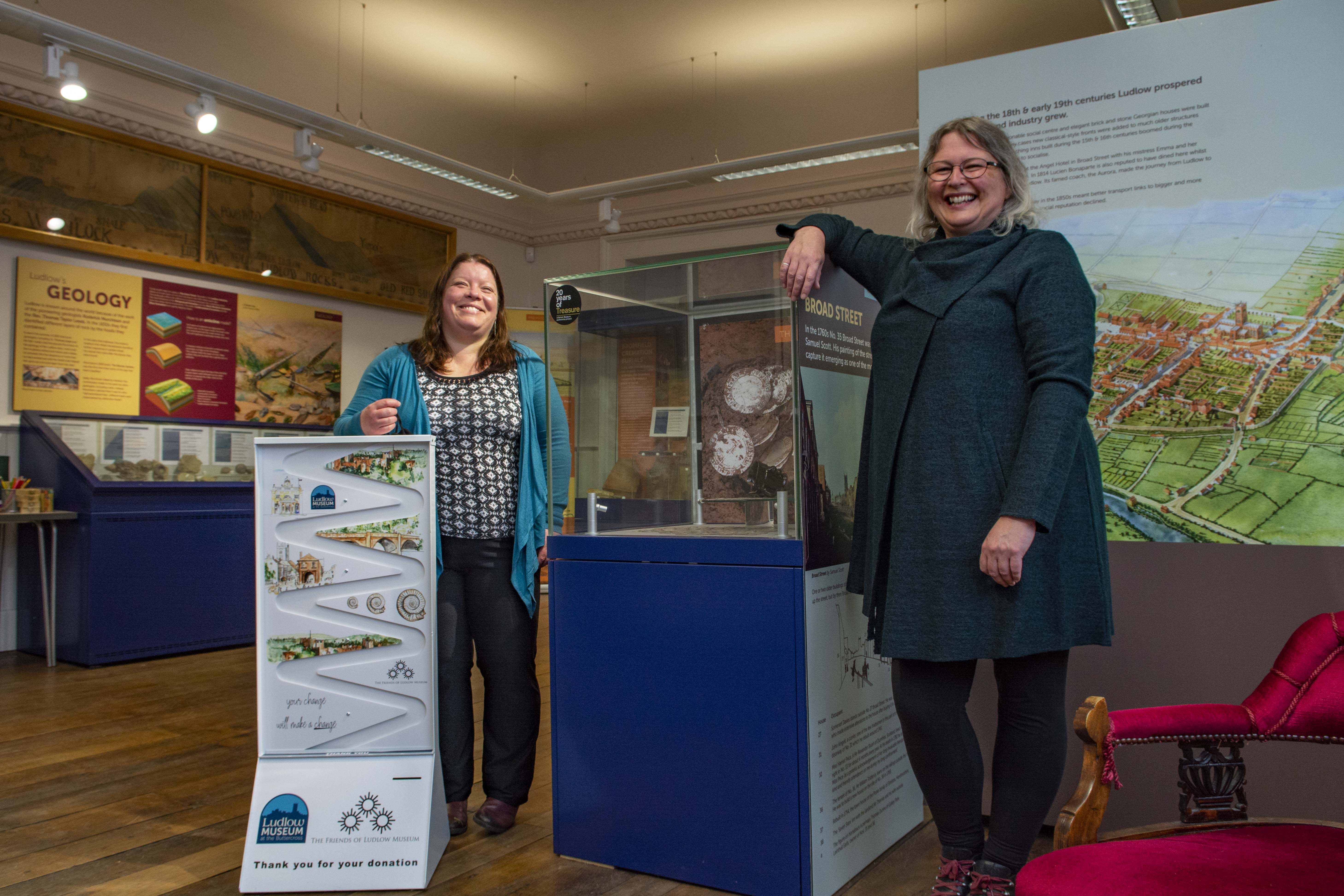 Ludlow Museum, Buttercross.
Vist the museum to find out about Ludlow's geology, archaeology, historical figures & social history. (re-opening in June)

How long have you been here?
The Buttercross since 1764, but the museum since 2016, telling Ludlow's history from its days as a shallow tropical sea 400 million years ago.

In one sentence what brought you to Ludlow?
Telling tales on Ludlow is fun!

Give the Ludlow Guide readers two great reasons why Ludlow is the place to be?
Because its history can be seen in every town centre street. The splendid view from the Buttercross down Broad Street to the historic Broad Gate Arch is one favourite.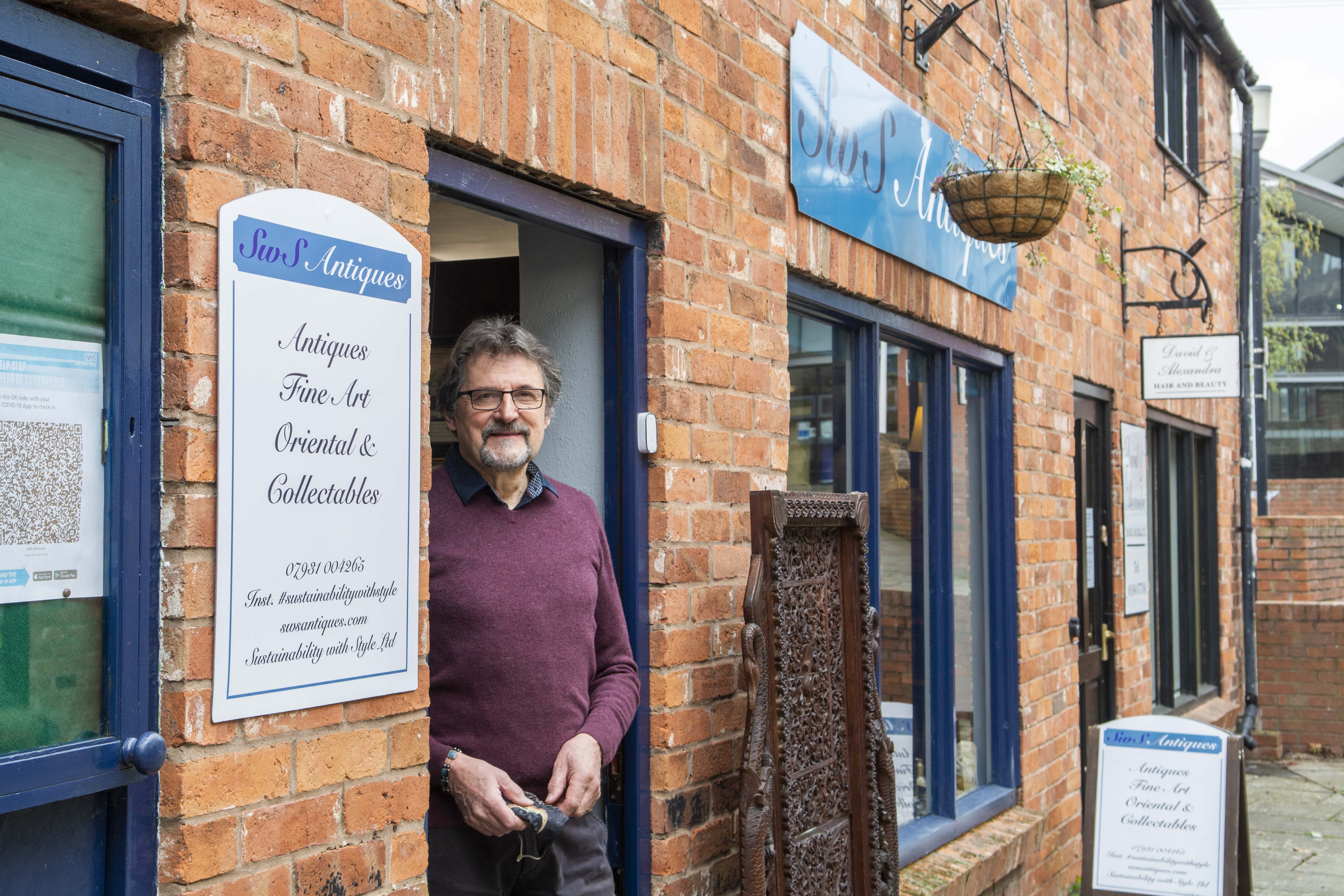 SwS Antiques, Parkway
Run by Peter Marten, SwS Antiques is the perfect stop for those looking for quality British & European antiques, fine art, oriental furniture & ceramics and collectables.
How long have you been in Ludlow?
My wife and I relocated to Ludlow town centre in 2015, having lived in country locations for most of our lives. We considered a number of possible towns across the country before settling on Ludlow which offered historic charm, an inclusive and connected community with a wealth of individual local shops and good facilities.
How long has Sws Antiques been open?
SwS Antiques opened in September 2018 located at 3 Parkway and doubled in size six months later to take in No 2. What started out as a hobby has become a passion. The shop focusses on antiques and fine art with an emphasis on quality, uniqueness and the unusual. The shop has developed a wide demographic with clients ranging from early 20s to nonagenarians both local residents and from around the world amongst the many visitors to the fine town. The client group is atypical in that a significant proportion are young professionals who have discovered the merits of period furniture, objects and art in creating an individual home.
Tell our readers why you Love Ludlow?
Ludlow offers the opportunity to experience a living history, where the past is integrated into the present giving a sense of tranquillity and continuity. It presents an excellent base to explore the wonderful historic sites and scenery Shropshire has to offer and leads to a memorable visit or stay for all.
Article written by Claire Hunte, Let's Go Social
Photography: Ashleigh Cadet
Published by Ludlow Guide on